I had planned on writing a series of articles on potential threats and their chances of becoming a serious issue.  Current events pushed this one to the top of the list.  The United States has its first case of Ebola in history.  This sounds very frightening, and there is a lot of talk about it right now.
Yes, Ebola has made it here.  Yes, it is a concern.  NO, you should not start to panic.  This eventuality has already been planned for by the CDC.  Even small, rural hospitals have received information from the CDC relating to identifying potential infections and proper isolation of patients.  The chances of Ebola becoming widespread in the U.S. are small.
Ebola is a very lethal virus, with a mortality rate ranging from 25% to 90%.  However, it can only be spread through direct contact with bodily fluids of someone infected.  It is also believed at this time that a patient is not contagious until symptoms present.  This makes it considerably less likely to become a major pandemic like most respiratory illnesses such as Influenza.
I look at comments on news articles and posts by friends on Facebook and realize that we are on the verge of a major pandemic of PANIC.  Panic is always counterproductive.  When people panic they do dumb things.  Dumb things in real emergency can become disasters.  Getting into a state of panic is easy for most people, but with a little bit of information, it can usually be overcome.  At the end of the article, you'll find several links to very reputable sources containing information to better understand this disease and how it relates to you.
For weeks I've been watching events in Africa.  What concerns me more are the events here.  People were already starting to freak out.  Now we have a case here.  Expect this freakout to go into overdrive.  This case of Ebola is 40 miles from me.  It's here where I and millions of others live.  I fully expect to see our hospital ERs overrun with people freaking out because they have a runny nose or a low grade fever.  This is going to stress the staff of the hospitals.  They will have to triage people that have a 0% chance of contacting this one infected person.  That makes it harder for them to help those that really need it.  I wouldn't be surprised to see people going to the ER like this all over the country.  It's just the way people panic.
A lot of preppers I know are jumping on the panic bandwagon.  "What do we do?"  "How do we prepare?"  "Is it time to self quarantine?" are a few things I've already seen.  Some of these are logical questions, some are fear driven.  We all make poor decisions when we make them in fear.  The first thing to do is take stock of the situation.  This can't be done in a panic.  Here's what we know…
A patient contracted Ebola on a trip to west Africa.  They brought it home to Dallas.  When they started showing symptoms, they went to the hospital.  The hospital recognized this as a potential infection and properly isolated the patient.  Tests came back positive.  The CDC is now involved.
At this point, the CDC is going to be putting its full effort into this case.  They will most likely locate anyone that could have had contact with this patient after becoming symptomatic.  There will be teams to determine if these people need to be isolated.  It may seem like an impossible task, but these teams will be professional and well trained.  Containing any potential outbreak is what they do.  At this point, the CDC is even saying that people on the flight with the patient are not thought to be at any risk.
At this point, that is pretty much all we know.  We have one case, and some people that will need to be monitored.  This DOES NOT mean there is an Ebola outbreak in Texas.  This is an isolated case for right now.  Of course, it is worth keeping a close eye on the situation, but it should not cause you to disrupt your normal life.
http://www.cnn.com/2014/09/30/health/ebola-us/index.html
http://www.doomandbloom.net/ebola-the-next-great-pandemic/
Last year, when the Self Reliance Expo visited north Texas, I assisted Dr. Bones and Nurse Amy of Doom and Bloom Survival Medicine with their booth.  They teach classes during the Expo and have to close their booth if they can't find someone to cover during these class times.  I was honored to help some good friends out.  Despite my protests, Nurse Amy insisted I take one of her kits home.  In fact, she let me know that she had my address and would mail to to me if I didn't take it right then.
The kit I was sent home with is called the Mini Deluxe Trauma Bag.  It's a lot more Deluxe than it is Mini!  It's a very comprehensive kit that can cover everything from minor scrapes and cuts up to serious traumatic injuries.  Nurse Amy hand packs every kit they offer with the experience gained from a career in medicine.  There are a ton of items in this kit, but each is placed where it needs to be for fast, easy access.  When there is a medical issue, the last thing you want is to search for the product you need to treat it.  That's what really separates this kit from any competitor.  Everything is easily accessible and prioritized by an expert in trauma medicine.
I've generally found that the best product reviews come from actually using a product.  Luckily, I haven't had to use this product too often.  With that said, it has been used.  With two little girls, it's always handy to have Band-Aids on hand, even if it is for a placebo.  But there are those times when I go overboard and need to test a medical product on myself.  Most recently I used a mandolin slicer to remove a good portion of my fingertip.  Elevation and applying pressure wasn't stopping the blood flow anywhere fast enough.  And I really hate making a mess by bleeding all over everything.  Enter the Trauma Bag.  Included in the hemorrhage control part were several options to stop bleeding quickly.  I selected Cayenne pepper powder (primarily because the commercial anti-coagulants are expensive to restock in the kit!).  Viola, bleeding under control!
Most kits you can buy off the shelf would not include a natural remedy like this.  Another benefit to a kit from Dr. Bones and Nurse Amy.  These kits are designed for practical use, and if a natural method works well, it is given a spot in the kit.  Overall, these kits are the best bang for your buck because the are packed by medical experts instead of the marketing department at Johnson & Johnson.
Rather than reinvent the wheel and post everything in this kit and other kits available, I'll just link over to the Doom and Bloom page where you can see contents, read more about them, and even see videos.
Here's a link to the Mini Deluxe Trauma Bag.
Here's a link to the Doom and Bloom Survival Medicine website.
Be sure to stop by and show some love to some great folks that provide a wealth of information to our community.
I got clever and wrote a couple of articles ahead of time and set them to publish at later times in WordPress.  I figured it would give me some time away from the computer for work, family, and homestead responsibilities.  As it turns out, I'm not one for automation.  I screwed up on some setting so nothing has posted in weeks.  Live and learn!!!
Very soon I will have articles up about dehydrating peppers and canning tomatoes.  A friend from work and I are going to jumping on the vermiculture bandwagon, so there will be info posted as we learn that.
On the puppy front, we've had some problems with Maevis.  For those following along, she is now a touch over 4 months old.  Over the weekend of the 4th of July, we had to take her to the animal ER at 10pm.  She was very disoriented and wobbly.  I was horrified that she ate some toxin or poison.  After $370 and several early morning hours, the vet thinks she aspirated vomit and caused lung inflammation.  Two weeks later, she presented the same symptoms, only much worse.  She actually fell off the bed and couldn't get back up. She would yelp if anyone touched her.  Back we go!!
This round at the animal ER was a late night ordeal on a work night.  And it cost another $330.  This time the diagnosis was a little more firm.  We opted for the Distemper test just to rule it out, but the vet was very confident in the problem being Meningitis.  Apparently, the lung problem was an infection that decided to go nasty on us.  After a few days, Maevis is starting to act like a puppy again.  We're doing a ton of pills twice a day.  Two antibiotics, a steroid, and pain medication.  It's been a long, expensive road, but I think we'll have a healthy puppy again.
Plantain (the weed, not the small banana) has been used for centuries as a medicinal herb.  Native Americans and Europeans have used it to treat a variety of medical issues including skin wounds, insect and spider bites, snake bites, and indigestion.  It is said to even help with acne and blood clotting.  Overall, this prolific weed has some powerful medicinal uses.  I've just recently discovered it, but I'm already impressed with it as a treatment for bug bites.
With all of this new information I have, I ran into a problem.  As it gets hot here in Texas, the Plantain is starting to dry up and crumble away.  I researched ways to preserve some of it.  Dehydration is an option, but I'm certain a lot of the medicinal qualities would evaporate away.  It looks like the best option to save the qualities I want is by making a tincture.  Tinctures are liquid extracts, usually made with ethanol.  I just happened to have a stash of moonshine at a pretty serious concentration, probably close to 180 proof (90%).  A bit of Google research turns up that tinctures are simple to make.
The basics are to add plant matter to the alcohol, let it sit a while, then strain the plant matter out with a filter or cheesecloth.  The alcohol will absorb the herbal goodness.
Raw Plantain Leaves
Rinsed and Chopped Leaves
Leaves in a Pint Mason Jar
Adding the Alcohol
Leaves Steeping
The leaves will steep in the alcohol for a week or two to do its work.  After this time, I will strain the plant matter out and save the liquid.  This liquid is the tincture.   This batch will net me around 9 or 10 ounces.  Once it is done, I will put it in a dropper bottle and test it out on the numerous bug bites I receive here on the homestead.  I'm really hoping it can offer some relief from all the chiggers that seem to find my legs delectable.  Stay tuned for an update in a couple of weeks on the final product and the relief it might offer.
One of the biggest benefits of living in a modern society is unlimited access to clean water.  We rarely even think about water quality when we can turn on a faucet and have millions of gallons of clean, safe water.  This seemingly endless supply of water relies on huge investments in infrastructure.  Most don't realize that the water from the tap travels many miles through pipelines and treatment plants and distribution systems to get to the kitchen sink.  These systems are robust and  very well designed, leading to very reliable service.  With such reliability, it's easy to see why water is overlooked in preparing for emergency situations.
There are many reasons why interruption in water service can occur.  A few that come to mind are long term power loss, infrastructure damage, and terrorist activity.  What are we to do when that reliable source of water stops flowing?  A simple answer for the short term is to have water stored.  Storing water is as simple as it sounds… Put water in a suitable container and seal it.  There are products out there for treating stored water, but they are largely unneeded.  If the water is clean when stored, it will remain so as long as the container isn't damaged or compromised.  If you feel the need to treat the water, standard household bleach will work as well as any chemical preservative.
Let's assume we have a loss of water service that is going to last more than a day or two.  In this scenario, we need the ability to source water and make sure it is fit for our needs.  Surface water is available in most areas of the country, but will not be safe to drink as it stands.  We'll look at a few ways to make this water safe to drink.
Selecting the Source
One of the best ways to get safe water is to start with the best you can.  Running water is always preferred to standing or stagnant water.  Just like we need water for life, so does every other organism on earth.  Standing or stagnant water is a hotbed of life, including microbes that can rob us of our life.  However, please do not assume that running water is safe as is.  It can contain plenty of unsafe microbes as well.  All water sourced will need treatment of some sort.
One handy way I've found to locate surface water is the use of Google Maps.  You can zoom in on your area and use satellite images to locate ponds, lakes, and creeks nearby.  More often than not, you will find water sources you didn't know about.
Basic Filtering
If the water you have is not clear, you will want to filter it before treatment.  This will remove large particles and dirt from the water.  This can range from pouring water through a cloth such as a bandana up to building a sand filter.  There is a lot of information available online for basic water filtering to remove large particles and contaminants.  We'll cover water filtration for microbe removal a bit later.
Treatment
Now that we've found a source of water, we need to decide how to make it safe.  There are a lot of options available to ensure clean water for drinking.
1. Boiling.
This is the most basic way to make water safe to drink.  Microbes that can make us sick don't do well with heat, so we can heat water until they are dead.  At what point are we sure they are dead?  The general consensus is 30 minutes at 160F, less than 5 minutes at 185F, and by the time water comes to a rolling boil, all microbes are dead.  I've seen some sources that recommend 10 minutes at boiling, but anything over 1 minute seems to be overkill.  I wouldn't fault anyone for letting it boil for a few minutes to be sure if fuel sources are abundant.
2. Chemical Treatment.
There are several options available to use chemicals to treat water to kill microbes.  One of the cheapest and most effective is chlorine.  5 to 7 drops of chlorine bleach per quart of water will kill anything in the water.  Just shake up the container and let it stand for 10 minutes to let the chlorine kill everything.  There are other chemical treatments available at outdoor supply store such as iodine based treatments.  If you go this route, just follow the directions on the container for optimum results.
3. Filtration
There are a lot of filter options available these days.  Most of them work very well, but you have to pay attention to the size of the pores on the filter element.  Most water filters will filter out all bacteria and particles from the water, but will allow a virus to pass through.  There are filters available that offer pore sizes down to .01 microns.  These will take out viral contamination, but they are generally expensive.  If your filter cannot ensure virus-free water, you might consider additional treatments listed here.
4. Ultraviolet (UV)
Microbes (including virus) can't live long when exposed to UV light.  One of the easiest methods to kill microbes is to expose them to UV light.  If the water is clear and placed in direct sunlight in a translucent container, wait for 6 hours and the water should be safe to drink.  If you can place the container on a reflective surface, it will increase treatment effectiveness.  The catch to using this method is that the water must be clear.  If it is cloudy, UV light cannot penetrate and kill microbes.
I still think it is important to keep some clean water stored up.  It will offer a good buffer during a disaster or survival situation while you make plans to procure and purify additional water.  Of course, the best option is to have a plan in place in case you need it.  So go ahead a take a few minutes to evaluate where the nearest source of water is and what would be the most effective means to make it safe to drink.
Before I get into a true review of the Doom and Bloom Survival Medicine Handbook by Dr. Bones and Nurse Amy, I need to send them a big thank you and an apology for not getting a review done sooner.  I had the pleasure of meeting them both at the Self Reliance Expo many months ago.  Dr. Bones promised to send me a personalized copy of the book and I told him I would enjoy reading it and get a review posted here at Surviving Modern Life.  He did send the book, I did enjoy reading it, and now I'm finally getting to a review.
I've read a couple of books on survival and wilderness medicine over the past couple of years.  I think it is a subject that everyone should at least have a basic understanding of since we aren't always within reach of our modern medical systems.  Whether we are out hiking hours away from the nearest road or we are facing a full societal collapse, medical issues will still come up.  In these extreme situations, it could fall to any one of us to step up and become the only medical care available.  In short term situations, this might only require a knowledge of basic first aid and the ability to stabilize the patient until professional medical help can be reached.  In long term situations, help might not be coming for hours, days, or even weeks.  With this very real threat, it is up to each of us within the preparedness community to learn the skills that can save our lives or the lives of those close to us.  Of course, not many of us can run out and start medical school so we have to explore other methods of learning.
This is where Dr. Bones and Nurse Amy come in.  They recognized that there is a niche that needed filled in the preparedness community in the area of medicine.  There are a lot of great medical books available but they are either too basic to be helpful or they are entirely too in depth for the layman to use.  The few books that fall in between usually conclude each section by saying, "Then seek professional medical help."  Not so with The Survival Medicine Handbook.
Dr. Bones and Nurse Amy recognized that there may be situations where seeking professional medical help isn't possible and geared their book to this possibility.  They take a holistic approach to teaching individuals to become the first line medical practitioner during an emergency.  A lot of books cover basic first aid and a "How To" approach to each medical condition.  The Survival Medicine Handbook covers all of this but also has entire chapters devoted to becoming a medical resource and the basics of medical emergency preparedness.
Another wonderful featured offered is the integration of traditional medical treatments with alternative medicines.  You will not only be provided with vast expertise in use of modern techniques and pharmaceutical drugs, but you will be exposed to the use of natural remedies and essential oils.  I find this refreshing since modern drugs might not always be available to us.
In closing, I would like to say that The Survival Medicine Handbook gives you access to many years of medical experience.  It won't make you a doctor, but it will exponentially increase your knowledge of medicine.  I feel more comfortable for owning and reading this book and having it handy for reference if I am in a situation where I need to provide medical care for myself or a loved one.
You can find The Survival Medicine Handbook at DoomandBloom.net.  While you are there, be sure to check out the huge amounts of free articles covering all things medicine.
It seems that preppers and survivalists are always talking about a possible pandemic.  Who can blame us after looking at history to see the horrible results.  To make matters worse, we had a hyped up "pandemic" a couple of years ago when the media felt the need to report every death related to the H1N1 Swine Flu even though the regular flu killed more people in the same season.  I suppose nothing sells news like pure, unadulterated panic with the masses.  The CDC certainly didn't help matters with their reactions to the disease.  I hope they are not seen as the boy who cried wolf when a more serious issue comes around.  It will be easy for everyone to remember back to the Swine flu if they start telling folks to stay at home.
When the panic starts to set in, how are we to prepare for something as widespread as a pandemic?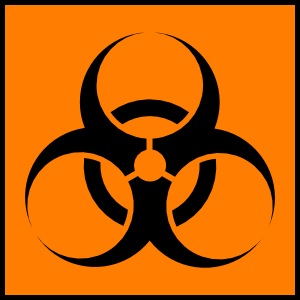 To answer that question, we need to look at a couple of things.  What will a global pandemic look like, and how long will it last?  Both of these are impossible to nail down exactly.  It depends on several variables including how virulent the contagion is and what is its lethality rate.  A highly contagious disease that has a low lethality rate will look a lot different from a mildly contagious disease that kills a lot of infected people.  The more lethal the disease, the greater the long term impacts.
Using the Swine Flu as an example, we can look back to see that even something as benign as that disease was able to disrupt normal life for a lot of folks.  There were a lot of businesses and schools that were closed.  This had a negative affect on commerce for a few weeks.  People started restricting their own exposure to the general public and stayed at home a lot more.  While none of it was major, there were some minor runs on grocery stores as people stocked up in anticipation of quarantine whether self imposed or by government.  All of this because of a mildly contagious but low lethality disease that was over-hyped in the media.
If we look at a more sinister strain, we can very easily see commerce interrupted or slowed for months.  Our modern society can only handle so much before the effects are noticed.  We live in a time of great modern convenience, but this convenience relies on very intricate systems of distribution that must be managed and maintained precisely.  If we see a disease that spreads quickly and kills efficiently it will not take long to start disrupting distribution networks.
As people begin to self quarantine, they will realize that they don't have enough resources at their home for any extended stay without a trip to the grocery stores or pharmacies.  At this point we will begin seeing increased pressure on existing stock at these stores.  Any sort of public panic or hysteria can push this to a tipping point.  To make matters worse, all it takes is one or two missed deliveries and the shelves start to go bare.  If there is a government instituted quarantine, these matters will become much worse.  In a worst case scenario travel restrictions become necessary to slow the spread of a disease.  An already strained distribution network cannot handle this kind of stress.
In our worst case scenario, we can also expect to see other systems start to stress and fail.  Electrical and communication systems are just as fragile and require a lot of manpower to run smoothly.  If critical personnel can not or will not show up for work, then failures can be expected.  The medical systems will obviously be overwhelmed treating the sick.  In a bad enough situation, hospitals will overflow and will only be able to take the worst cases.  EMS, fire, and police will be susceptible to the same overwhelming effects of possible manpower shortages.  During Hurricane Katrina, we saw governments at local, state, and national levels unable to cope.  A national or worldwide disaster will be exponentially worse.  As a lot of us say, you can't count on the government coming to help.
Now that we've painted a pretty grim picture of what a pandemic can look like, let's take a look at what we can do in our own lives to be better prepared.  Preparing for pandemic isn't much different from preparing for any other disaster.  Our basic survival needs will still be the same.  We still need clean water and we will still be eating.  Anyone familiar with preparedness already knows that having a some water stored and some food put away provides peace of mind.  In the event of quarantine, this becomes necessary.  The average household has no more than three days of food on hand.  This is not enough for any disaster, but woefully inadequate for any sort of quarantine.  If a disease is bad enough, expect to be in your home for a couple of weeks to a month with little chance to restock.
I expect that water won't be much of an issue unless there is a serious collapse.  Water distribution systems are pretty robust when compared to other distribution systems.  However, it never hurts to have extra water on hand as well as a means to purify additional water if needed.
There are some websites that will sell people on the need for masks of all kinds.  Some even go as far as to recommend gas masks.  I'm not in that crowd.  A surgical mask or dust mask might offer some minor reduction in your chances to catching an airborne disease, but it is certainly not a sure fire method of protection.  I see greater benefit for someone already infected to wear one to reduce the chances of transmitting a disease to others.  The best bet for avoiding airborne disease is distance and hygiene.  All of the stuff we've heard for years about washing hands often and covering coughs works a lot better than a mask for reducing infections.  Other than a couple of N95 masks, the only items in my preps that is geared specifically to pandemic preparedness is anti-bacterial hand soap.
Overall, preparing for pandemic isn't much different than preparing for any other disaster.  The best course of action during the spread of any disease is to simply avoid exposure as much as possible.  By limiting exposure to crowded areas and avoiding direct contact with those already infected won't ensure you won't fall ill, but it will reduce the chance of infection more than anything else.
There are a lot of lists out there on items that you should have in your preps. These include items for barter and items to have on hand even if you don't know how to use them, "just in case" someone else might know how to use them.  I think stocking items like this will tie up money and storage space that can be much better used for items that you can and will use in daily life or if the world goes to hell in a handbasket.   Having all sorts of great HAM radio gear costs a ton of money to buy and can take up quite a bit of space.  Being a licensed radio operator, I can assure you that just having the equipment will do you no good whatsoever.  There is a significant learning curve on using HAM to make contact with other operators.  Unless you are practicing these skill already, you won't have the ability to use this gear when you need it.  I encourage everyone to become proficient in communications, but I'll never recommend that someone buy radio gear "just in case"  For the price of a good transceiver and antenna you can put back a ton of beans.  Literally a TON of beans.   In my opinion, barter items are in the same boat.  If you overstock ammo with some trade in mind, that's not too bad because you can use that ammo yourself if there is no need to barter.  I hear a lot of people that store liquor for barter, but they don't drink at all.  I like a good drink, so I know exactly how expensive liquor can be.  Don't get me wrong, if you drink it's all good to store some of your favorite beverage.  It will store indefinitely and I can think of nothing better than facing the end of the world with a nice Bourbon to take the edge off.  However, I'm not going to tie up hundreds of dollars to store a luxury item before additional food or medical supplies.  Now that I have my rant out of the way, we'll look at some items that you can feel confident about storing without worrying about overstocking.  Of course, I'm a proponent of "Store what you eat, eat what you store", so rotating these items shouldn't be a major problem.  You should only be limited by the amount of space you have available to you.  This list isn't meant to be completely inclusive, so use your judgment on what would serve you and your family.  Also, note that the list is not in any particular order, so don't feel the need to add any items in order of appearance.
Food:
Water – You can never have too much, but it is bulky.  Have a way to purify water from outside sources!
Rice – White rice stores a really long time.  Wild and Brown rice have a much shorter life span.
Beans of all types
Canned vegetables
Canned meats – only store these if you are willing to eat them!
Pasta
Powdered milk – You'll need to learn to cook with this, so practice now.
Home canned goods.
Dehydrated foods – These take up very little space and store for a long time.
Freeze dried foods – These are a little pricey, but can't be beat for shelf life.
Dried eggs – Check out the OvaEasy brand.  They are amazing!
Sugar
Flour
Baking supplies
Powdered drink mixes
Coffee
MREs – Try before you stock up.  They are calorie dense, but some people despise the foods within.
Personal:
Soap – Bar and liquid
Toothpaste
Dental floss
Shampoo and Conditioner
Deodorant
Toilet paper
Feminine products
Razors
Shaving cream
Baby powder
Medical:
Band-Aids
Gauze
Medical tape
Q-Tips
Nitrile gloves
Rubbing Alcohol
Hydrogen peroxide
Saline solution
Antiseptic solutions
Hydrocortisone
Over the counter medications
Antibiotics
Supplies:
Batteries – all sizes and types used in your household
Duct tape
Sewing supplies
Cordage – stock a variety of sizes and types
Trash bags
Zip-Loc bags
Foil
Plastic sheeting
Ammunition – This is also a great hedge against inflation since the price only seems to go up!
Propane
Gasoline – Gas must be treated to increase shelf life, so plan for this if you have long term in mind
Kerosene or lamp oil
Seeds – Heirloom varieties ensure a supply of seeds from the garden year after year
Currency – None of us can ever have too much money!
Canning lids and rings
Like I said earlier, this isn't a complete list, nor is it in any particular order.  Each person or family's needs will vary a little bit, so each of us will need to evaluate what should be in our preps.  If I have any glaring oversights, please feel free to leave a comment so we can build this list up on items that we can never have too much of.
This weekend the Self Reliance Expo made its stop in the north Texas area.  Sarah and I managed to sneak over for a few hours to see what was going on.  This was a pretty big feat for me since I had to violate a personal rule about crossing into Dallas County.  Dallas has a lot to offer and a lot of cool things going, for most people.  It's there if I need it, but I can generally make due without the massive 6 lane freeways and the 5 mile long interchanges that involve half of the major interstate highways in Texas.  Couple that with all the drivers that feel like they aren't moving unless they are passing you.  Yeah, I generally avoid the big city unless something really cool is going on.  Fort Worth can be crazy, but Dallas is usually pure insanity.  That "something cool" was there this past weekend.
We didn't get to make it out that way until around noon on Saturday.  I like getting to events much sooner to the opening than that, but with prior obligations we got there as soon as we could.  I was hoping that showing up halfway into the second day of a two day event would still allow me to see everything available and meet the folks I was hoping to run into.  I wasn't disappointed in the least.  We made it just in time to catch the presentation from Doctor Bones and Nurse Amy from Doom and Bloom.  It didn't take long before they had our full attention.  For an hour they covered medical care for collapse situations.  Everything from broken bones to lacerations was covered in detail with a great slideshow presentation.  I've sat in on medical presentations in the past that bordered on boring.  A few have crossed over into true slumberland.  Not this round.  Doctor Bones and Nurse Amy are both good presenters and enjoy interacting with their audience.  Not once did I get the feeling that they were dragging.  I'm looking forward to getting my hands on their new book, The Doom and Bloom Survival Medicine Handbook.  I was planning on getting one at the expo, but Doctor Bones explained that they managed to sell every copy they brought with them.
Once the presentation was over it was time to hit the aisles and see the vendor booths.  Food and water are always popular items at events like this, so I got to get myself familiar with the product offerings for both.  Berkey water filtration seemed to be a hit, so it took me a few minutes to get up to the booth and ask a few questions.  I was surprised as the number of options available for filtering water.  I knew about the big countertop units Berkey offers, but discovered they have other options as well.  Of note were water bottles with integrated ceramic filters.  Sarah pointed out this might be a good gift option for friends of ours that spend a few months each year in research in the jungles of Central America.  To say the water should be avoided down there is an understatement!
Next we were on to the food vendors.  The normal offerings were available including Mountain House, Wise and Thrive brand long term foods.  Sarah discovered Thrive's freeze dried grated cheese.  We're both a little leery of long term dairy, but this stuff was pretty good.  We'll be adding some of that to the long term storage.  The hit of the day for me was the booth for OvaEasy Whole Egg Crystals.  I've had dried eggs in the past and the results were less than stellar.  After asking the important question… "Are these just powdered eggs?"  I was presented with a fork full of scrambled egg.  That answered the question.  "NO" these are not just powdered eggs.  They tasted like eggs, but more importantly, they had the texture of eggs.  Gonna have to add this one to the long term storage grocery list.
There were several booths extolling the virtues of alternative energy at the expo.  That's a subject I'm interested in, but the product prices in that field are pretty much off limits for the prepping budget in the short term.  I didn't spend much time in those booths, but will be sure to the next time the expo comes through town.  I spent a little more time with the custom knife makers, but their wares were out of the budget as well.  My lust for a custom knife will have to wait until more important items are procured.
The folks at Ready Made Resources were there showing off some of their cooler products.  I only got to speak with the proprietor for a minute since his booth seemed to be one of the most popular that afternoon.  They were showing off a solar power pack that looks incredibly portable and useful, but I didn't get a chance to ask many questions thinking I could find it on their website.  No luck yet, so it looks like I need to give them a call.
On our way out the door, we paused to talk with the folks from Backwoods Home Magazine.  I've been a fan of theirs for a long time, so I really enjoyed getting to meet Dave Duffy, the editor.  Since I think they do a lot of great work for the Survival and Homestead community, I decided to go ahead and get a magazine subscription.  They make a ton of info available on their website for free, so I wanted to support them on the side of the business that pays their bills.
Overall, I was impressed with the Self Reliance Expo.  I think it was well worth the ticket price to get in the door.  I hope the show was successful enough to expand to other cities, and I certainly hope to see it again in north Texas.  Now I I can just talk them into moving it a little west to Fort Worth so I don't have to break my "No Dallas" rule again!
Because of the popularity of the First Aid articles I've put up here, I decided to write another before getting into other survival subjects.  This one probably won't be as eye opening as the article on being shot, but it covers a subject that you are a lot more likely to encounter.  A lot of this information might seem be a refresher for a lot of people, but it never hurts to refresh on the basics in case we need to use the knowledge we have.  As always, I'll start out by saying that I'm not a medical professional so consult a doctor when the need for medical care arises.  We're going to be covering insect and spider bites.  I'm going to break it into two parts because treatment is very different for a simple mosquito bite and a person going into shock from multiple bee stings.  At its most basic, an insect or spider bite is simply an allergic reaction.  Some will result in mild reaction and some can result in a serious reaction that can be fatal if not treated promptly.
Mild Reaction Treatment:
A mild reaction to a bite or sting can range from a small red bump on the skin to an extremely painful bee sting.  Most of us have experienced these types of reactions more than we would like.  Mosquitoes moving in at dark on that perfect day at the lake or fire ants inviting themselves to that picnic in the field are a nuisance, but isn't really a serious medical concern.  A bite or sting of this type usually just results in some discomfort, itching, and a little redness.  An ice pack or a topical creme like Cortisone or a paste made of water and baking soda can take care of it in a jiffy and get you back to having a good time.  Even a single bee sting, though painful, isn't something to be concerned about for most of us.  There are some folks that can have a severe reaction, but its not common and we'll cover it in the second part of this article.  Bee stings might require a little bit more attention because bees leave their stinger imbedded in the skin.  You can take solace in the fact that bees can only sting once and after that they fly off to die.  They're the Kamikaze bombers of the insect world.  Additional treatment for a bee sting includes using something with a sharp edge to scrape across the skin to remove the stinger.  Resist the urge to squeeze the stung area since this will push more of the venom out of the stinger and into the skin.  An old home remedy to help with the stinging sensation and swelling is to apply freshly chewed tobacco to the area.  I had this done as a kid and it does work, but I will understand if others aren't keen on the idea.  Something a little more medical (and sanitary!) would be a Benadryl creme.  Of course it is a good idea to monitor anyone that gets a bite for signs of a more serious reaction, but for the most part nothing else should be required.  If the discomfort isn't bad, you can just wash with soap and water and go on your way.  Soap won't do much for the venom, but it will help prevent infection from the inevitable scratching the area might receive.
Serious Reaction Treatment and Poisonous Spiders:
Serious reactions to insect stings or bites are just that, SERIOUS.  This type of reaction generally occurs when a person is extremely allergic to the venom or when a person is stung multiple times.  In these cases, the body produces a very strong histamine reaction that can be fatal.  The proper name is anaphylaxis. Symptoms of anaphylactic shock include:
1. Nausea
2. Difficulty breathing
3. Swelling
4. Reduced blood pressure (shock)
5. Dizziness
6.  Rapid heart rate
If you are treating someone with these symptoms after an insect sting or bite you should seek medical attention immediately.  Some immediate first aid includes administering an anti-histamine drug such as Benadryl if they are able to swallow.  You should also have the person lay down and elevate the feet.  If the person is wearing anything that could become restrictive because of swelling, it should be removed.  If the person has a history of allergic reactions, they might be carrying a kit with an EpiPen.  Now would be the time to administer the Epinephrine.  Some of you might be thinking that it would be a good idea to have one of these EpiPens on hand just in case.  On the outside its a good idea, but these things are available by prescription only and are very expensive, one time use devices.  It is best left for a doctor to determine if someone should carry one and have it administered to them if needed.  These injections can have side effects that can adversely affect the patient, and you could be in serious trouble if you administer someone a prescription medication without being qualified.  Benadryl is a much safer way to treat someone for an allergic reaction.  I carry Benadryl capsules and children's liquid in my first aid kit for this very reason.  The goal, as it always is with FIRST aid, is to stabilize someone until they can receive medical care from the professionals.
Spider bites are like other stings and bites in that they can go one of two ways.  The normal spider bite can be treated like a mild reaction insect bite.  I don't have any idea on the number of different spiders that bite, but only two will fall into the serious category.  We're all familiar with them as they are all over the place.  The Brown Recluse and Black Widow are the ones to look out for.
Brown Recluse bites are rarely noticed when they happen and it can take several hours to a day for the onset of symptoms.  These include fever, chills, nausea, weakness, and lesions and necrosis (dying tissue) at the bite location.  Black Widows bites are a little more likely to be felt when they happen, but they aren't always noticed. These bites share most of the same symptoms as a Brown Recluse bite, but the victim might also have difficulty breathing and lose consciousness.  In case of bite by either of these spiders, you need to seek medical attention as soon as possible.  First aid doesn't really come into play since there isn't much that can be done outside of a professional medical environment.  Apply an ice pack to reduce swelling until medical help can be reached.
Brown Recluse Spider:
Black Widow: