Here at the homestead, we are situated right where the prairie meets a creek bottom.  Wildlife is abundant and the scenery is very pretty.  It also means we have some great soil for growing.  One of the downsides, however, is that we don't have many of the typical "firewood" trees around.  Most of us in the south instantly think of Oak as the firewood of choice.   It burns slow and hot, and one tree usually contains enough wood for a winter of fireplace use.  Folks in other parts of the country have their own first choices for firewood.  I don't have any of the "favorites" on my place at all.  I'm not even sure where they nearest Oak tree is.
One tree species I have an abundance of is very wicked and hateful Honey Locust.  How can a tree be so wicked and hateful?  It all has to do with natural defenses.  This species has thorns.  Big, ugly thorns that will pierce right through the sole of work boots and car tires.  It cares not for your denim and cotton duck clothing or leather gloves.  The goal of this tree is to make you bleed, and it achieves the goal frequently.   Most thorny trees have thorns on the branches.  The Honey Locust has them too, but it also grows thorns up and down the trunk.  Vicious, multi-pronged thorns that can grow to 8 inches in length.
Most sane people would ask the question, "Why would you mess with a hateful tree like that?"  The answer is simple.  The wood is very hard, straight growing, and the trees have very few branches.  It really makes for some beautiful firewood.  Because of the lack of branches and the straight grain, this wood is probably the best splitting wood I've worked with.  It burns slow and hot, which really helps heat the house on frigid nights.
So how do I deal with getting this tree from a thorny mess to the woodpile?  I've developed a couple of different approaches.
The first approach is the easiest.  The second takes a little more time, but will save you some bleeding.
The first approach is to fell a tree where I can back my Jeep in close enough to strap on to the trunk.  Once the tree is down, I will cut the branches off and leave them be for the time being.  Then I run a chainsaw across the trunk, which will send all the thorns flying.  Once it is de-thorned, I'll pull the main trunk to another spot to cut it up.  This leaves the thorns well away from my new work area.  Just remember to be careful if you walk through that section of woods in the future!
The second approach is what I have to use when felling these trees close to the house where I expect foot or vehicle traffic.  I try to drop the tree to an open area if I can.  This time, I de-thorn the trunk using an axe, so the thorns fall straight to the ground around the trunk.  This will keep the work area from becoming a minefield of pure pain.  Once the trunk has had all the thorns removed, I take a leaf rake and rake them all to one spot.  The rake does a great job of gathering all of the thorns up from the ground.  Now I have a safer area to work on cutting the trunk into firewood sized pieces.  At this point, you can go back to the thorn pile and shovel them into a box or bucket.
If you get creative, you might come up with some uses for the thorns.  I've thought about using them in specific areas to deter the local wildlife.  Since they are extremely hard, they would probably make for some excellent primitive fish hooks.  If your creative side is lacking, they burn completely and very well.
Maybe I was paying better attention this year, but it seems like when Spring hit, it hit all at once.  My memory isn't the best, but in previous years it seemed a little more gradual.  Within the first two weeks of April, we went from a drab winter scene of brown and more brown to trees in full leaf and the grass and weeds in the pasture being knee tall.  We did have a sneak attack freeze on Tax Day this year, the latest freeze I can recall.  Luckily, I was able to cover all the tender squash and bush beans with a thick layer of straw, so they fared pretty well.  The onions, radishes, and sweet peas could care less about a 29 degree night.
Now that we've had our last freeze, it's time for everything else to start going in the ground.  I procrastinated this winter on starting my seedlings for tomato and peppers, so a trip to the Dennis Farm Store was in order.  Dennis' is a locally owned store that covers just about any need for farm or ranch.  To make it even better, the owner is a wealth of information.  The best part is seedlings from his store are twice as healthy and half the price of the box store places.  I ended up picking out 14 tomato and 16 pepper seedlings.  He threw in the big packet of okra seeds I needed for me.
This morning found me out getting the tomatoes in and mulched.  As soon as the last of the straw mulch was spread, big raindrops started to fall.  I wish I could say I planned it that way, but it was dumb luck more than my ability to forecast weather.  Now the sun is peeking through the clouds and we're looking at a warm, sunny afternoon.  I think the baby tomato plants will enjoy their first day in their new home.
Aside from gardening, other upcoming projects on the homestead include building a quail tractor and getting 20 or 30 quail.  Sarah and I have no experience with these little birds, so we'll document the process the whole way and hopefully not kill too many birds while we learn.  I have a friend that is getting started with quail several weeks ahead of me, so I'm hoping to learn from any mistakes he might make.
Once the garden starts producing, Sarah and I will fire up the pressure canner to preserve some of the harvest.  We'll do a full write up on the process for anyone interested in learning the skill.  We have other projects in the works, but like always we have more plans than we have time.  We'll cover anything we get into and share them as we learn new skills in self sufficiency and self reliance.
As we've gotten settled in at the new homestead, one of my first goals was to get a garden established.  Texans are blessed with a long growing season, and the Fall garden usually does as well as a Spring garden.  Days are warm, sun is abundant, and the first frost is really late in the year.  Even more exciting was the dirt I have here at the homestead.  I have over an acre of dark brown sandy loam.  Beautiful dirt in the eyes of anyone wanting to grow things.  I couldn't wait to start getting my vegetables in the ground.  After checking for proper planting dates, I put seeds in the ground before we had a functioning kitchen or the dining room table set up.  I'm not sure Sarah agreed with my priorities, but she's very tolerant of my craziness.
I opted to start small and work with an area on the south side of the house.  There was dirt that had recently been worked into a water control feature to keep run-off from running up to the house.  It was already loose, so I didn't have to really break any ground.  I dug through my seed packets to see what was date appropriate.  Early August is perfect for a variety of squash.  Yellow Crookneck, Butternut, and Black Beauty Zucchini all got the stamp of approval and went in the ground.  The girls really wanted some pumpkins for the Fall, so I obliged and planted five little mounds of two varieties of them.  Tomato and Pepper transplants were also due, so a trip to the local nursery netted a few of each.  Some heirloom and a couple of hybrid tomatoes, a couple of Bells and a couple of Serrano plants went in the ground next.  I raked up a lot of dried grass clippings from the field to act as a temporary mulch and set out on a routine of watering to offset the hot, dry weather.
At first, everything was going perfectly.  The transplants took off without many signs of transplant shock.  Within a few days, I had little baby squash and pumpkins emerging for their first taste of air and sunlight.  In another few days, they all started putting on their big kid leaves.  I was one excited gardener!  I was already planning on how much we would eat fresh, how much we could can, and how much would be a goodwill gesture to the new neighbors.  Never count your chickens before they hatch!!
In my excitement, I overlooked a major part of the Texas ecology.  Late summer is hot and dry.  Anything that isn't irrigated starts to die, including all the grass.  That wipes out the primary food source of a plague.  So much a plague, that it is literally of biblical proportions.  Grasshoppers by the thousands start looking for new sources of food.  My garden turned into a buffet.  I've learned that grasshoppers had preferences.  They prefer summer squash over everything else.  Once that was gone, they decided on winter squash.  Then they set their sights on pumpkins.  Sorry girls, no pumpkins to carve for Halloween!
(One of the culprits actively engaged on the carcass of a squash plant)
I thought the grasshoppers were content there.  Turns out I'm not that lucky.  Did you know that grasshoppers will eat pepper plants??  I do now!  The only thing they don't seem to ravenously destroy are tomato plants.  For now at least.
Even after having my heart ripped out and consumed by evil, ugly, jumping insects, I'm not one to accept defeat.  So if the grasshoppers don't care for tomatoes, I certainly do!  All that real estate left vacant by my my poor, defenseless squash plants will soon be occupied again.  We just picked up several varieties of tomato plants.  As the sun starts to set tonight the planting will begin.  I'll be going from 6 tomato plants to 16.  By God, if tomatoes are the only thing I can grow, then I'll grow a lot of them!!
Once it cools down a little, I'm hoping the grasshopper invasion will lighten up a little bit.  I should still have time to get cool weather plants established before it gets too cold.
So far, the Fall garden has been a harsh lesson but I'm determined to get something to produce.  At least I can walk away with more knowledge.  Learning from mistakes might hurt a little, but it makes that hurt sting a little less when we can garner information to make the next attempt a little easier.  Now that I know the evil that lurks in the Texas summer, I'm planning defensive measures.  If I have to build a grasshopper screen for next year, I have a year to plan it.  Grasshoppers are jumpy little things (pun intended!), so I'm going to mess with their heads.  I'm going to try putting several mylar pinwheels out to spin in the breeze and throw crazy reflections all over the place.  Bird feeders will be going up all over the place to draw in some natural predators.  The grasshoppers have won this battle, but the war has only begun!
Stay tuned for other (Mis)Adventures on the new homestead.  Sarah and I are talking about soapmaking, so if we pull it off without chemical burns we'll work out a how-to tutorial.  If we end up with caustic burns, we'll post up some home remedies for chemical burns!
*No grasshoppers were harmed in the making of the article. Yet.
For a long while, Surviving Modern Life had to be put on the back burner so I could actually survive modern life.  Over the past few months, life has been busy with finding a house to rent, raising kids, commutes measured in hours, and working as much as possible to fund all of it.  Finally, Sarah and I have found a rental property.  We are mostly unpacked and getting the kids settled in, though some of life is still being lived out of moving boxes.  Originally, we expected to find something in town and were willing to adapt our homestead desires to an urban model.  We spent every available moment looking at rent houses and thinking of ways to adapt to them, only to find them rented out to someone else before we could even meet with the landlord to sign a lease.  If the housing and rental market is down, no one told north Texas!!
By a stroke of luck, Sarah found a classified ad for a home for rent outside of town.  13 miles out of town to be exact.  Everything worked out better than expected, a lease was signed the day we viewed it, and we started moving all the stuff that two households contained to form one.  My commute is now measured in minutes rather than hours, so now it is time to move the website back to the front burner and turn up the heat!
I originally stated that the mission of this website was to share information as I learn to become more self sufficient.  Now I can kick that concept into overdrive as the new homestead is larger than I hoped.  We have a four acre parcel to work with, though I doubt I ever utilize all of it.  There is plenty of room for all sorts of homestead and self sufficiency projects, which will provide plenty of content for the website.  When I started the website, resources and space were limited, and I found it difficult to stay motivated on writing articles.  I felt like I was cheating my readers, because the content was based more on research than hands-on experience.  I started writing gear reviews and articles on subjects that were pertinent to survival, but it wasn't my intent to become the gear expert.  I wanted dirt on my hands, and food on the table.  I wanted to be a source of information for homestead survival, not a gun and gear reviewer.
As Surviving Modern Life started, I was surprised at the number of readers I was getting.  I was humbled that so many people would subscribe and read the ramblings of a country boy that was interested in being ready for some zombie apocalypse.  I even made friends with some of the big names in the field, like Dr. Bones and Nurse Amy, Jack Spirko, and the folks at the Self Reliance Expo.  Then, as life got busy, I let everything go to the wayside for a while.  Readership has dropped off, Google ranking is a lot lower now, and overall, the website has been stagnant.
I hope to get this corrected and turn Surviving Modern Life into the information source and community that I wanted it to be.  I've had friends ask about contributing, I've had companies ask about advertising.  I didn't feel comfortable letting someone invest time or money if I wasn't willing to keep it active.  Now that modern life has equalized, it is time to resurrect a faded website and get our hands in the dirt and our pantries in shape!  If you have anything to share, want to write an article, or just say hi, feel free to comment here or email me.
Thanks for taking time to read, and I look forward to talking with you!
-Justin
For years I've considered buying a rifle or carbine for defensive use.  It never rated high on the priority list since I always considered myself a shotgun guy when it came to personal or home defense.  I've spent a few years looking at various rifles and carbines from a noncommittal standpoint and became pretty well versed with what was on the market.  I knew all the specs and read all the reviews online and in magazines.  I've even handled and shot a few varieties.  It was safe to say that I was unbiased toward any particular design.  The AK has its strengths and weakness, as did the AR platform.  I knew I wasn't interested in guns chambered in larger calibers like .308 or 7.62x54R.  These serve a purpose, but not the one I wanted to fill.  I knew my desires landed in the intermediate cartridges like .556 or 7.62×39.  Ammo availability and price are always a concern when I'm looking at a gun.
I let a friend know that I was getting serious about figuring out what kind of rifle I wanted, he invited me to stop by the defensive training range he works at.  He arranged for there to be several rifles there so I could look, feel, and shoot each one to get more familiar with the features I wanted.  This was a blessing since purchasing a defensive rifle can be a pretty big investment.  After some basic instruction on the designs, we hit the range.  I quickly decided that I favored the AR platform.  Luckily there were five variations available to test out.  They ranged from polymer lower guns to a custom competition gun put together by a very competent armorer.
Now that I knew what I wanted, it was time to start the shopping process.  I was back to the internet and magazines to read reviews with a very critical eye.  My budget put me somewhere in the middle of the AR world.  I wasn't going to be buying a LaRue or Daniel Defense, but I wasn't stuck looking in the bargain bins either.  With the research done, it was time to get some hands on at every gun store I could get to.  Luckily we have several great tactical weapons suppliers in the greater D/FW area.  Bushmaster, SIG, DPMS…  I handled them all.  After a couple of weeks I ended up at the local Cabela's retail store.  Their selection is pretty good and prices are competitive.  What was even better was ending up with an employee that was not only knowledgeable, he was willing to spend as much time as needed with me.  I had already handled most of their offerings at other stores, so he handed me a rifle I hadn't touched before.  Like most people, I'd never heard of Windham Weaponry.  I was leery of a rifle that I hadn't seen in the gun magazines.
The Initial Impression
As soon as he handed me the gun, I went to town with my initial review.  Pop the pins, open it up and see what it looks like on the inside.  Most ARs sport the same features externally, so I wanted to see how well the manufacturer treated areas that usually aren't seen.  Attention to detail is important.  If a company cuts corners where no one can see, where else will they try to save a few bucks?
Internally, the Windham looked good.  No rough machine marks could be found in the upper or lower receivers.  The bolt looked very good and I was pleased to see that not only was the gas key staked, it was staked well.  Research had told me that Windham performs pressure tests and MPI tests.  Even though there is no way to visually verify that, it means that they are serious about the quality of their components.
Externally, the Windham looks like most other ARs.  All of the pieces fit together tightly and the finish on both aluminum and steel are even.  It has all the features expected such as a dust cover, forward assist, and collapsible stock.  It is a very straightforward offering.  As the cliche in the AR world says, "All the features you need, and none you don't".  This was perfect for me since I already had ideas about customizing it to suit me.
So after being impressed with the quality and the very few reviews available, I decided to take the Windham home with me.  What made the deal sweeter was a sale price on the gun.  Those that have been reading my site for a while know how much I love good deals on guns!
The Range
To be completely honest, the range review will be a little skewed.  From my previous range date, I knew that I wanted to add some goodies to the gun right off the bat.  Let's face it, ARs are Barbie dolls for grown men and offer countless accessories.  Before heading to the range, I added a couple of goodies from Magpul.  I opted to install the MOE handgaurd and the ACS buttstock.  The buttstock changes the way the rifle shoulders and improves cheekweld. I also picked up a handful of 30 round PMags.
For the initial testing, I brought a few different rounds: .223 55gr FMJ from Remington, 5.56 62gr FMJ from Lake City, and .223 55gr FMJ steel case ammo from Tula.  The reason the steel case ammo was tested was because of the cheaper price.  Some gun enthusiasts might never consider steel case in an AR, but I believe if it works, take advantage of the cheaper practice!
The Windham digested 2 boxes of each of the brass ammo and I was on my third box of Wolf when I experienced a failure to eject (FTE).  After looking everything over, I found a bit of crud under the extractor.  A quick flick of the wrist with a dental pick and we were back in business.  Since that initial FTE, I have experienced no other issues.  So far I have put about 2000 rounds through it.  If I shoot a few hundred rounds of steel case ammo, I'll check under the extractor any make sure there is no buildup that might lead to another FTE.
Even shooting as much as I have, I haven't taken the time to do a true accuracy test.  The range I shoot at is geared to defensive training, so the longest range they offer is around 35 yards.  The most thorough testing I've done is shooting some military BZO targets.  These targets offer a small target designed to be shot from 30 yards.  At this distance, the size of the target is the same as a man sized target at 300 yards.  Even with my poor eyesight and using irons, I am able to keep them on target.  The trigger lends to accuracy right out of the box.  There is very little takeup, and the release is about as crisp as I've found.  I would compare it to a lot of better bolt guns.
So far, I've used this gun for one carbine class.  Even with some rapid fire exercises to heat everything up, the gun ran as well as any other participants' gun in the class and better that most.
The most telling review I've received is from other shooters at the range.  Several law enforcement officers and prior service military personnel have shot my Windham and have been impressed.  The consensus is that it is a well crafted gun and Windham will be able to raise their prices once they develop their customer base.  The gun compares in quality to guns that cost hundreds more.
In closing I'd like to say that I feel comfortable recommending this gun to anyone looking for a solid AR.  I'd also like to thank the guys over at Proactive Defense for putting up with me while I was researching, asking questions, and learning more about the AR platform.  If you need any defensive training in the north Texas area, you can't find a more knowledgeable, experienced, or friendlier group of guys.
One of the biggest benefits of living in a modern society is unlimited access to clean water.  We rarely even think about water quality when we can turn on a faucet and have millions of gallons of clean, safe water.  This seemingly endless supply of water relies on huge investments in infrastructure.  Most don't realize that the water from the tap travels many miles through pipelines and treatment plants and distribution systems to get to the kitchen sink.  These systems are robust and  very well designed, leading to very reliable service.  With such reliability, it's easy to see why water is overlooked in preparing for emergency situations.
There are many reasons why interruption in water service can occur.  A few that come to mind are long term power loss, infrastructure damage, and terrorist activity.  What are we to do when that reliable source of water stops flowing?  A simple answer for the short term is to have water stored.  Storing water is as simple as it sounds… Put water in a suitable container and seal it.  There are products out there for treating stored water, but they are largely unneeded.  If the water is clean when stored, it will remain so as long as the container isn't damaged or compromised.  If you feel the need to treat the water, standard household bleach will work as well as any chemical preservative.
Let's assume we have a loss of water service that is going to last more than a day or two.  In this scenario, we need the ability to source water and make sure it is fit for our needs.  Surface water is available in most areas of the country, but will not be safe to drink as it stands.  We'll look at a few ways to make this water safe to drink.
Selecting the Source
One of the best ways to get safe water is to start with the best you can.  Running water is always preferred to standing or stagnant water.  Just like we need water for life, so does every other organism on earth.  Standing or stagnant water is a hotbed of life, including microbes that can rob us of our life.  However, please do not assume that running water is safe as is.  It can contain plenty of unsafe microbes as well.  All water sourced will need treatment of some sort.
One handy way I've found to locate surface water is the use of Google Maps.  You can zoom in on your area and use satellite images to locate ponds, lakes, and creeks nearby.  More often than not, you will find water sources you didn't know about.
Basic Filtering
If the water you have is not clear, you will want to filter it before treatment.  This will remove large particles and dirt from the water.  This can range from pouring water through a cloth such as a bandana up to building a sand filter.  There is a lot of information available online for basic water filtering to remove large particles and contaminants.  We'll cover water filtration for microbe removal a bit later.
Treatment
Now that we've found a source of water, we need to decide how to make it safe.  There are a lot of options available to ensure clean water for drinking.
1. Boiling.
This is the most basic way to make water safe to drink.  Microbes that can make us sick don't do well with heat, so we can heat water until they are dead.  At what point are we sure they are dead?  The general consensus is 30 minutes at 160F, less than 5 minutes at 185F, and by the time water comes to a rolling boil, all microbes are dead.  I've seen some sources that recommend 10 minutes at boiling, but anything over 1 minute seems to be overkill.  I wouldn't fault anyone for letting it boil for a few minutes to be sure if fuel sources are abundant.
2. Chemical Treatment.
There are several options available to use chemicals to treat water to kill microbes.  One of the cheapest and most effective is chlorine.  5 to 7 drops of chlorine bleach per quart of water will kill anything in the water.  Just shake up the container and let it stand for 10 minutes to let the chlorine kill everything.  There are other chemical treatments available at outdoor supply store such as iodine based treatments.  If you go this route, just follow the directions on the container for optimum results.
3. Filtration
There are a lot of filter options available these days.  Most of them work very well, but you have to pay attention to the size of the pores on the filter element.  Most water filters will filter out all bacteria and particles from the water, but will allow a virus to pass through.  There are filters available that offer pore sizes down to .01 microns.  These will take out viral contamination, but they are generally expensive.  If your filter cannot ensure virus-free water, you might consider additional treatments listed here.
4. Ultraviolet (UV)
Microbes (including virus) can't live long when exposed to UV light.  One of the easiest methods to kill microbes is to expose them to UV light.  If the water is clear and placed in direct sunlight in a translucent container, wait for 6 hours and the water should be safe to drink.  If you can place the container on a reflective surface, it will increase treatment effectiveness.  The catch to using this method is that the water must be clear.  If it is cloudy, UV light cannot penetrate and kill microbes.
I still think it is important to keep some clean water stored up.  It will offer a good buffer during a disaster or survival situation while you make plans to procure and purify additional water.  Of course, the best option is to have a plan in place in case you need it.  So go ahead a take a few minutes to evaluate where the nearest source of water is and what would be the most effective means to make it safe to drink.
Before I get into a true review of the Doom and Bloom Survival Medicine Handbook by Dr. Bones and Nurse Amy, I need to send them a big thank you and an apology for not getting a review done sooner.  I had the pleasure of meeting them both at the Self Reliance Expo many months ago.  Dr. Bones promised to send me a personalized copy of the book and I told him I would enjoy reading it and get a review posted here at Surviving Modern Life.  He did send the book, I did enjoy reading it, and now I'm finally getting to a review.
I've read a couple of books on survival and wilderness medicine over the past couple of years.  I think it is a subject that everyone should at least have a basic understanding of since we aren't always within reach of our modern medical systems.  Whether we are out hiking hours away from the nearest road or we are facing a full societal collapse, medical issues will still come up.  In these extreme situations, it could fall to any one of us to step up and become the only medical care available.  In short term situations, this might only require a knowledge of basic first aid and the ability to stabilize the patient until professional medical help can be reached.  In long term situations, help might not be coming for hours, days, or even weeks.  With this very real threat, it is up to each of us within the preparedness community to learn the skills that can save our lives or the lives of those close to us.  Of course, not many of us can run out and start medical school so we have to explore other methods of learning.
This is where Dr. Bones and Nurse Amy come in.  They recognized that there is a niche that needed filled in the preparedness community in the area of medicine.  There are a lot of great medical books available but they are either too basic to be helpful or they are entirely too in depth for the layman to use.  The few books that fall in between usually conclude each section by saying, "Then seek professional medical help."  Not so with The Survival Medicine Handbook.
Dr. Bones and Nurse Amy recognized that there may be situations where seeking professional medical help isn't possible and geared their book to this possibility.  They take a holistic approach to teaching individuals to become the first line medical practitioner during an emergency.  A lot of books cover basic first aid and a "How To" approach to each medical condition.  The Survival Medicine Handbook covers all of this but also has entire chapters devoted to becoming a medical resource and the basics of medical emergency preparedness.
Another wonderful featured offered is the integration of traditional medical treatments with alternative medicines.  You will not only be provided with vast expertise in use of modern techniques and pharmaceutical drugs, but you will be exposed to the use of natural remedies and essential oils.  I find this refreshing since modern drugs might not always be available to us.
In closing, I would like to say that The Survival Medicine Handbook gives you access to many years of medical experience.  It won't make you a doctor, but it will exponentially increase your knowledge of medicine.  I feel more comfortable for owning and reading this book and having it handy for reference if I am in a situation where I need to provide medical care for myself or a loved one.
You can find The Survival Medicine Handbook at DoomandBloom.net.  While you are there, be sure to check out the huge amounts of free articles covering all things medicine.
It seems that preppers and survivalists are always talking about a possible pandemic.  Who can blame us after looking at history to see the horrible results.  To make matters worse, we had a hyped up "pandemic" a couple of years ago when the media felt the need to report every death related to the H1N1 Swine Flu even though the regular flu killed more people in the same season.  I suppose nothing sells news like pure, unadulterated panic with the masses.  The CDC certainly didn't help matters with their reactions to the disease.  I hope they are not seen as the boy who cried wolf when a more serious issue comes around.  It will be easy for everyone to remember back to the Swine flu if they start telling folks to stay at home.
When the panic starts to set in, how are we to prepare for something as widespread as a pandemic?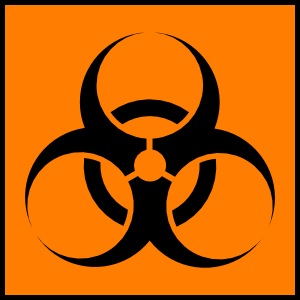 To answer that question, we need to look at a couple of things.  What will a global pandemic look like, and how long will it last?  Both of these are impossible to nail down exactly.  It depends on several variables including how virulent the contagion is and what is its lethality rate.  A highly contagious disease that has a low lethality rate will look a lot different from a mildly contagious disease that kills a lot of infected people.  The more lethal the disease, the greater the long term impacts.
Using the Swine Flu as an example, we can look back to see that even something as benign as that disease was able to disrupt normal life for a lot of folks.  There were a lot of businesses and schools that were closed.  This had a negative affect on commerce for a few weeks.  People started restricting their own exposure to the general public and stayed at home a lot more.  While none of it was major, there were some minor runs on grocery stores as people stocked up in anticipation of quarantine whether self imposed or by government.  All of this because of a mildly contagious but low lethality disease that was over-hyped in the media.
If we look at a more sinister strain, we can very easily see commerce interrupted or slowed for months.  Our modern society can only handle so much before the effects are noticed.  We live in a time of great modern convenience, but this convenience relies on very intricate systems of distribution that must be managed and maintained precisely.  If we see a disease that spreads quickly and kills efficiently it will not take long to start disrupting distribution networks.
As people begin to self quarantine, they will realize that they don't have enough resources at their home for any extended stay without a trip to the grocery stores or pharmacies.  At this point we will begin seeing increased pressure on existing stock at these stores.  Any sort of public panic or hysteria can push this to a tipping point.  To make matters worse, all it takes is one or two missed deliveries and the shelves start to go bare.  If there is a government instituted quarantine, these matters will become much worse.  In a worst case scenario travel restrictions become necessary to slow the spread of a disease.  An already strained distribution network cannot handle this kind of stress.
In our worst case scenario, we can also expect to see other systems start to stress and fail.  Electrical and communication systems are just as fragile and require a lot of manpower to run smoothly.  If critical personnel can not or will not show up for work, then failures can be expected.  The medical systems will obviously be overwhelmed treating the sick.  In a bad enough situation, hospitals will overflow and will only be able to take the worst cases.  EMS, fire, and police will be susceptible to the same overwhelming effects of possible manpower shortages.  During Hurricane Katrina, we saw governments at local, state, and national levels unable to cope.  A national or worldwide disaster will be exponentially worse.  As a lot of us say, you can't count on the government coming to help.
Now that we've painted a pretty grim picture of what a pandemic can look like, let's take a look at what we can do in our own lives to be better prepared.  Preparing for pandemic isn't much different from preparing for any other disaster.  Our basic survival needs will still be the same.  We still need clean water and we will still be eating.  Anyone familiar with preparedness already knows that having a some water stored and some food put away provides peace of mind.  In the event of quarantine, this becomes necessary.  The average household has no more than three days of food on hand.  This is not enough for any disaster, but woefully inadequate for any sort of quarantine.  If a disease is bad enough, expect to be in your home for a couple of weeks to a month with little chance to restock.
I expect that water won't be much of an issue unless there is a serious collapse.  Water distribution systems are pretty robust when compared to other distribution systems.  However, it never hurts to have extra water on hand as well as a means to purify additional water if needed.
There are some websites that will sell people on the need for masks of all kinds.  Some even go as far as to recommend gas masks.  I'm not in that crowd.  A surgical mask or dust mask might offer some minor reduction in your chances to catching an airborne disease, but it is certainly not a sure fire method of protection.  I see greater benefit for someone already infected to wear one to reduce the chances of transmitting a disease to others.  The best bet for avoiding airborne disease is distance and hygiene.  All of the stuff we've heard for years about washing hands often and covering coughs works a lot better than a mask for reducing infections.  Other than a couple of N95 masks, the only items in my preps that is geared specifically to pandemic preparedness is anti-bacterial hand soap.
Overall, preparing for pandemic isn't much different than preparing for any other disaster.  The best course of action during the spread of any disease is to simply avoid exposure as much as possible.  By limiting exposure to crowded areas and avoiding direct contact with those already infected won't ensure you won't fall ill, but it will reduce the chance of infection more than anything else.
When we first get in a preparedness mindset, it seems overwhelming on everything we need to do.  I remember when I first started.  There was all that food and water I needed stored.  All that ammo, too.  Of course I needed more guns to protect all that stuff.  Then there's the need for the biggest, baddest bug out bag available.  A 3 day bag?? No way, I wanted a week!  My vehicles needed prepped, and not just the basics.  I wanted mobile bug out locations.  I was excited and couldn't wait to get it all done and be ready for a pandemic of Mayan zombie hurricanes!  Finally I was awake to the possibility that things could go wrong and I didn't have a second to spare.
It didn't take long before reality set in and the cost of all this stuff smacked me in the face.  It was time to prioritize since I couldn't just run out an buy everything I thought I needed.  As time went on and I was slowly building up all of this stuff, I had an epiphany.  All of this gear and all of these supplies were great for becoming self reliant, but self sufficiency should have been the goal.  I've heard that self reliance is how long you can go without systems of support.  Self sufficiency is how many systems of support you no longer need at all.  A 30 day store of food means I can avoid the grocery store for a month.  Learning how to hunt, fish, and garden means I can avoid the grocery store indefinitely.  Of course, feeding myself 100% from the land would be hard in the best of times but if we can become 30% self sufficient in food, that is 30% less dependent we are on a system.  My epiphany centered around the idea that with enough learning and skill development I could rely on the things around me to provide what I need rather than an expensive piece of gear.
If our grandparents knew we were having this conversation, they would just laugh at us.  They understood the importance of learning skills and learning to rely on themselves.  100 years ago, kids were put to work in the garden when they were old enough to walk.  Developing life skills started as early as possible with past generations.  These days our children are told that survival skills involve using a computer to do English homework.  If they need anything, there is a product at Wal-Mart we can buy to take care of that need.  I'm guilty of it myself, as I'm sure most of us are.  How many of us can build a fire without matches, or even with a single match?  Why should we bother when we can get a starter log and have instant fire!  It only took me about 30 minutes to teach myself to get a fire going with a single match.  Once I had that down, learning to do it with a fire steel took about 5 minutes.  It sounds like it would be as easy as touching a lit match to some dry grass, but if you haven't tried it you can't know for sure.
A large aspect to learning a new skill is saving money.  The more you know, the less you rely on someone else to provide a service or product.  An example that comes to mind is dehydrating foods.  That skill is pretty simple to master, but can save a lot of money on the grocery bill.  It can also help you preserve foods that would otherwise go to waste.  If we wanted to take the example to the extreme, we ca, with a little ingenuity, you can bypass purchasing a $100 electric dehydrator and build a solar dehydrator from scrap wood and some metal screen.  Now we have eliminated that purchase and our dependence on electricity to dehydrate food.  The concepts behind solar dehydrators are simple, and designs abound on the internet.  With an investment of a couple of hours, you can have a solar dehydrator up and running.
Most of the problems we have in our day to day lives and any we might face in a survival situation can be overcome with just a few basic skills.  I could go on with a list of important skills until this article turned into a book, but that's not my intent with this article.  My point is to say that we should evaluate what skills we feel we lack then start to learn them.  With all of the resources available to us these days, there is no reason we shouldn't be able to learn anything we want.  We live in a time when all the information in the world is at our fingertips.  If you want to learn it, there is probably a video on Youtube to show you how.  If not, someone has written an article or book about it.  It's amazing at how many skills I've learned this way.  However, learning takes more than just watching a video or reading an article.  You have to practice that skill to become proficient.  Too many times I've read about something and assumed I was an expert on the subject only to find out it was harder than it looked online.  But with a little practice, I've figured out that I can learn just about any skill I want to.
Part of the reason I started my website was to share skills that I'm learning as I learn them.  It not only lets me help others, it makes me really focus on learning a skill fully so I feel qualified to share it with others.  Stay tuned for future articles where we will cover some basic but important skills.  Some of the subjects might seem simple to some people, but remember that we all started somewhere.  What seems simple to some of us might be a revelation to a new prepper.
It should comes as no surprise that I have a bit of a gear addiction.  It's also safe to say that my addiction includes knives.  I have knives of all sorts, types, and configurations.  So much so that I pretty much have a knife for every occasion.  I know better than to look at new knives because it usually results in purchase of that particular knife.  The responsible part of me has learned to only buy knives when they fit a specific need (I believe this is called justifying an impulse buy!) and have a fair price tag.  Sometimes this works well for me, and sometimes I buy knives I can't really justify.  My latest purchase turned out to be the former.
I was looking for a small fixed blade knife that would look appropriate when I'm sporting tactical style pants.  I have a small Marbles knife that has served me well, but the brown leather sheath and stag antler handle stand out like a sore thumb on a BDU belt and tactical pants.  I could usually care less about how I look, but for some reason this style faux-pas was unacceptable.  So the search for the perfect knife begins….
The number of "survival" and "tactical" knives available is staggering.  A lot of them are nice, some are complete crap.  Each one that seems to work well has a cult following.  I decided to delve into the information on the internet to see if I could sort the wheat from the chaff.  As is turns out, only a few knives seem to have great reviews.  With the state of Texas having laws in place that limit us to 5.5 inches, that narrowed it down a little further.  I tend to hate any sort of radical design for fixed blade knives, so now there are even fewer.  That was a lot of searching to find most companies either have a stupid looking design or are made of substandard materials.
I've heard of the RAT Cutlery knives for years, and the guys over at In The Rabbit Hole Podcast seem to really like them.  I figured they were worth looking at.  Some internet research revealed that the RAT name is licensed to Ontario Knife, and that the original manufacturer now uses the name ESEE. I managed to snag one at the local gun show for a little less than retail price.  Make no mistake, these aren't inexpensive knives.  These are top quality in both material and construction.  After much rambling, it's time to get to the particulars of my perfect new belt knife.
The model I ended up with is the ESEE Izula II.  Apparenty, the Izula is a pretty serious little ant in the Amazon jungle.  The knife lives up to its namesake.  It is sleek, slender, and ready to sting.
To save time, I'm going to borrow the specs directly from the ESEE website.  I hope they don't mind!
O.A Length: 6.75″
Blade Length (end of handle to tip): 2.88″
Cutting Edge Length: 2 5/8″
O.A. Blade Length: 2 3/4″
Maximum Thickness: .156″
1095 Steel – 57 Rc.
Blade Width: 1.0″
Grind: Flat
Handles: Canvas Micarta
Weight: 3.2 Ounces (Knife & Handles Only)
Sheathing: Injection Molded, Black
Pommel: .550″ Diameter Hole To Accommodate Carabiner
Spine: Thumb Grippers
Finish: Textured Powder Coat
My initial impressions were pretty favorable.  The knife balances very well and they handle shape and size is very comfortable.  The Micarta handle offers a no-slip grip.  But as always, the best way to judge a knife is to use it.  Here at Surviving Modern Life, I prefer to abuse the hell out of something before I give it a favorable review.
A weekend camping trip proved to be a great testing ground to see if this knife could handle my particular brand of abuse.  Like I said, I wanted to give it a thorough test, so I wasn't concerned about marring the finish or chipping the blade.  Turns out, I didn't need too.  The first round of testing involved wild onions.  They were growing everywhere in the rocky soil around the creek.  Out comes the knife and into the ground it goes.  It turns out that wild onions can really hold on to the ground.  Each onion dug out required digging around it and loosening up all the rocks to get it out.  When you use a knife to dig, you generally don't like to hear crunching or scraping sounds.  There were plenty of knife killing sounds going on.  I got my harvest of onions then washed the knife off in the creek.  I did dry it on my pants before resheathing out of habit.
The next round came before dinner time.  It was time to start a fire and I went all out on knife abuse.  The blade is less than 3 inches long, so it isn't optimal for batoning wood.  I'm not one to let "less than optimal" hold me back.  Into a chunk of oak goes the knife and I proceed to beat on it with another log.  Pretty soon I have a neat little pile of kindling and a couple of bloody knuckles.  Now I know why a longer knife is preferable for this technique!  Now I finally have some damage on my knife.  The powdercoat finish on the blade flatten out a little bit.  It didn't peel off at all, just lost some of the texture.  Functionality isn't affected at all, just the cosmetics.
Now it's on to dinnertime.  I could have grabbed my Mora.  I could have grabbed the kitchen knife we brought.  Oh please, we're in the middle of a gear test!  After a quick washing, the Izula is in the camp kitchen.  Of course I can't find many ways to abuse it in the kitchen.  The best I could do was some food chopping on the aluminum table.  Since the knife has a Rockwell hardness of 57, I could have cut the table in two without damaging the blade.
At this point I decided to call it on further testing.  I couldn't think of any other sinister tests that would mimic real life use.  I have to say I was very impressed.  Now onto my not impressed impressions.
The sheath that comes with the knife is a hard plastic job that the knife fits into snugly.  Unfortunately, it's just a sheath.  It doesn't even include a belt clip.  These are sold separately.  I ended up using paracord to lash it to my belt for the weekend.  Even if I was inclined to buy a belt clip, the knife would sit way too high on my belt.  There are folks out there that offer leather and Kydex sheaths in a traditional style.  This is the option I took.  I found a great sheath from Endless Mountain Supply on Ebay.
The next issue I take with the knife is the Micarta handles.  They start out a very pretty subdued greenish gray color.  After using it with dirty hands for a weekend, it darkened quite a bit.  Now it's almost black.  The functionality and grip are unaffected however.
I'm so impressed with the durability and craftsmanship in this knife that I'm now planning to purchase the ESEE 4, which is the same knife with a 4+ inch blade.  I love the size of the Izula, but some jobs require a little more blade.  I can safely say that if you are in the market for a higher end knife, you can't go wrong.  It has all the attention to details that you usually find from custom makers for a fraction of the custom price.  ESEE gets the Surviving Modern Life endorsement.  I look forward to getting the ESEE 4 and giving it the same style of abusive testing.