Prepared For a Pandemic? Not That Hard, Right?!
It seems that preppers and survivalists are always talking about a possible pandemic.  Who can blame us after looking at history to see the horrible results.  To make matters worse, we had a hyped up "pandemic" a couple of years ago when the media felt the need to report every death related to the H1N1 Swine Flu even though the regular flu killed more people in the same season.  I suppose nothing sells news like pure, unadulterated panic with the masses.  The CDC certainly didn't help matters with their reactions to the disease.  I hope they are not seen as the boy who cried wolf when a more serious issue comes around.  It will be easy for everyone to remember back to the Swine flu if they start telling folks to stay at home.
When the panic starts to set in, how are we to prepare for something as widespread as a pandemic?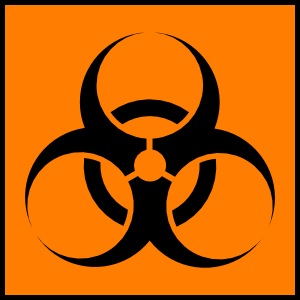 To answer that question, we need to look at a couple of things.  What will a global pandemic look like, and how long will it last?  Both of these are impossible to nail down exactly.  It depends on several variables including how virulent the contagion is and what is its lethality rate.  A highly contagious disease that has a low lethality rate will look a lot different from a mildly contagious disease that kills a lot of infected people.  The more lethal the disease, the greater the long term impacts.
Using the Swine Flu as an example, we can look back to see that even something as benign as that disease was able to disrupt normal life for a lot of folks.  There were a lot of businesses and schools that were closed.  This had a negative affect on commerce for a few weeks.  People started restricting their own exposure to the general public and stayed at home a lot more.  While none of it was major, there were some minor runs on grocery stores as people stocked up in anticipation of quarantine whether self imposed or by government.  All of this because of a mildly contagious but low lethality disease that was over-hyped in the media.
If we look at a more sinister strain, we can very easily see commerce interrupted or slowed for months.  Our modern society can only handle so much before the effects are noticed.  We live in a time of great modern convenience, but this convenience relies on very intricate systems of distribution that must be managed and maintained precisely.  If we see a disease that spreads quickly and kills efficiently it will not take long to start disrupting distribution networks.
As people begin to self quarantine, they will realize that they don't have enough resources at their home for any extended stay without a trip to the grocery stores or pharmacies.  At this point we will begin seeing increased pressure on existing stock at these stores.  Any sort of public panic or hysteria can push this to a tipping point.  To make matters worse, all it takes is one or two missed deliveries and the shelves start to go bare.  If there is a government instituted quarantine, these matters will become much worse.  In a worst case scenario travel restrictions become necessary to slow the spread of a disease.  An already strained distribution network cannot handle this kind of stress.
In our worst case scenario, we can also expect to see other systems start to stress and fail.  Electrical and communication systems are just as fragile and require a lot of manpower to run smoothly.  If critical personnel can not or will not show up for work, then failures can be expected.  The medical systems will obviously be overwhelmed treating the sick.  In a bad enough situation, hospitals will overflow and will only be able to take the worst cases.  EMS, fire, and police will be susceptible to the same overwhelming effects of possible manpower shortages.  During Hurricane Katrina, we saw governments at local, state, and national levels unable to cope.  A national or worldwide disaster will be exponentially worse.  As a lot of us say, you can't count on the government coming to help.
Now that we've painted a pretty grim picture of what a pandemic can look like, let's take a look at what we can do in our own lives to be better prepared.  Preparing for pandemic isn't much different from preparing for any other disaster.  Our basic survival needs will still be the same.  We still need clean water and we will still be eating.  Anyone familiar with preparedness already knows that having a some water stored and some food put away provides peace of mind.  In the event of quarantine, this becomes necessary.  The average household has no more than three days of food on hand.  This is not enough for any disaster, but woefully inadequate for any sort of quarantine.  If a disease is bad enough, expect to be in your home for a couple of weeks to a month with little chance to restock.
I expect that water won't be much of an issue unless there is a serious collapse.  Water distribution systems are pretty robust when compared to other distribution systems.  However, it never hurts to have extra water on hand as well as a means to purify additional water if needed.
There are some websites that will sell people on the need for masks of all kinds.  Some even go as far as to recommend gas masks.  I'm not in that crowd.  A surgical mask or dust mask might offer some minor reduction in your chances to catching an airborne disease, but it is certainly not a sure fire method of protection.  I see greater benefit for someone already infected to wear one to reduce the chances of transmitting a disease to others.  The best bet for avoiding airborne disease is distance and hygiene.  All of the stuff we've heard for years about washing hands often and covering coughs works a lot better than a mask for reducing infections.  Other than a couple of N95 masks, the only items in my preps that is geared specifically to pandemic preparedness is anti-bacterial hand soap.
Overall, preparing for pandemic isn't much different than preparing for any other disaster.  The best course of action during the spread of any disease is to simply avoid exposure as much as possible.  By limiting exposure to crowded areas and avoiding direct contact with those already infected won't ensure you won't fall ill, but it will reduce the chance of infection more than anything else.